Provides well- functioning used equipment to schools and hospitals.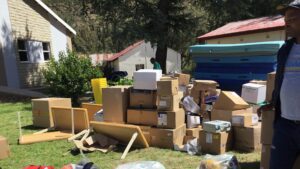 The goal of " Recycling for Lesotho" is to enhance the knowledge of IT and thus ameliorate education/job possibilities by shipping reconditioned IT equipment from Denmark.
Health conditions can be ameliorated by providing up-to-date hospital equipment.
Football accessories encourages youth to participate in sports activities, be part of the community and keep fit.
A partnership has been established between DLN and LECSA( Lesotho Evangelic Church of Southern Africa).
In 2020 DLN and LECSA aim to ship a container with equipment for several hospitals and health clinics in Lesotho. If possible also football accessories and children's wear to be distributed among the most needy families.
The shipment will also have 40 computers for Thabang High School in Morija.
The idea for this project came into being in 2018 when DLN was approached by Egtved Primary School (in DK). The school offered to donate 33 good reconditioned computers to a school in Lesotho.
Mosoang High School in Morija was chosen as recipient. Recycling for Development/ Danish Ministry of Foreign Affairs covered the shipment fees. The computers were delivered in January 2019.
In February 2020 a team from DLN paid a visit to Mosoang High School. 26 computers are still functioning and 120 students are trained in IT skills.
In February 2020 DLN has delivered a container with hospital equipment to Scott Hospital in Morija followed by instructions in technical use of the equipment and training of nurses at the local training centre
During our last visit in Lesotho we made a small video: