By: Christel Amundsen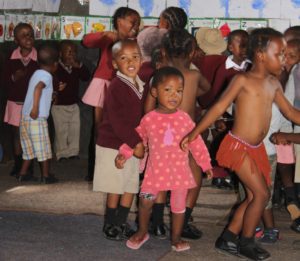 There is a small boy standing in a dark corner of the classroom. The room is dim and the teacher has not yet seen him. He is the smallest of the group of children and simply bewildered. Cannot figure out the dance steps or songs and unable to understand collective instructions of which there are many. The other kids have just run out and are lining up for a game they are going to show to the group of European travelers. I felt a lump in my throat and wanted to put him in my pocket. Knowing all too well the feeling of being wrong and clumsy.
Recognizing is a great part of my travel experience in Lesotho. It is unfamiliar and seems well-known al the same, scenery as well as people. Thinking back now, one week after return, it is the kids in the kindergarten and the after-school center, the young people at the technical school and the women of the DLN democracy project and the weavers that I remember best.
This is where the future lies. But the memory also leaves me with a feeling of powerlessness. What can I do?  When hunger catastrophes strike you can donate money. But here we are faced with people like ourselves, but their everyday lives are not like ours. No recognition here. They just seem to lack so much. And yet the women create the most beautiful dresses and the finest of arts & craft, pictorial weavings, splendid soft mohair shales and colorful baskets.
There were 11 of us who visited for two weeks in the beginning of November 2017 and it has been one of the most fantastic travels that I have ever undertaken.  We were welcomed in people's private homes and were treated with homebrewed beer and snacks. Saw dinosaur footprints and bushman paintings.
We spent hours together in the bus with our good and lovely driver, Ntate Lefa, while the magnificent mountain views passed by, and the burned fields of umbra, red, maroon, and black were turned by men with oxen-pulled ploughs. The most exotic and wildest of wildlife that I saw was an ibis and lizards.  But the people have made an everlasting impact on me: Men on horseback wrapped in blankets wearing wellingtons, women in hats and colorful dresses and children in school uniforms.
People ask me, 'was it a nice holiday', and the answer is no. It was everything else. It was exhausting, eventful, cool, educational, reflective, fantastic, happy, wonderful, and insightful and a lot more.  However more than anything, I think is has been an incredible eye-opener. It felt so good to see our Danish overindulgences smack dab in the face.