Denmark Lesotho Network (DLN)
Denmark Lesotho Network (DLN) blev stiftet i 2002 som en følge af, at Mellemfolkeligt Samvirke (MS) efter en økonomisk nedskæring havde besluttet at lukke bistandsprogrammet i Lesotho. Mange af de daværende og tidligere danske udviklingsarbejdere i Lesotho, udsendt gennem MS, havde svært ved at forlige sig med, at det igangsatte danskstøttede udviklingsarbejde i Lesotho pludselig skulle afbrydes. Derfor stiftede de DLN med følgende formål:
At støtte initiativer i Lesotho, som fremmer arbejdet med at udvikle og forbedre levevilkårene i landet
At fremme kontakten mellem folk i Lesotho og Danmark
Committee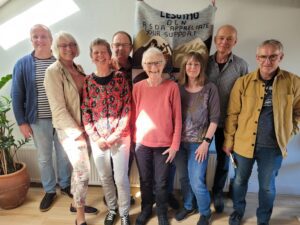 The committee
(from left):   Karsten Lund, Anne Jacobsen, Karina Ruby, Nis Skau, Anne Andersen, Lisbet Kristensen, Carsten Brønden, Kurt Hansen.
Absent: Bodil Mathiasen

Chairman:  Karina Ruby
Karina worked as development worker from 2000 to 2003 in Maseru for Lesotho Society of Mentally Handicapped Persons.
email: rubykarina@gmail.com
Deputy chairman: Lisbet Kristensen
Lisbet was a development worker with women's groups in Berea district 1988 to 1992. Lived in Teyateyaneng.
email: lisbetstjerneklar@gmail.com
Treasurer: Nis Skau
Nis is agronomist from the Agricultural University in Copenhagen. Beyond the studies in economy, Nis was member of the students third world group. Nis was travelling in Lesotho, Botswana and South Africa in 1983. Nis have visited Lesotho in 2002, 2014 and 2016.
email: nisskau@gmail.com
Secretary: Carsten Brønden
Carsten started his career as a lecturer at Aarhus Tech and soon moved into international development work. This has brought him to more than 30 different countries in Africa and Asia in terms of short term consultancy jobs as well as longer postings abroad. Latest a two year contract with a large NGO in Namibia.
email: carstenbronden@hotmail.com
Members
Bodil Mathiasen
Bodil is a teacher. She has worked in the Danish Refugee Council for a number of years as integration officer. From 1994 she has been a teacher in a language school for immigrants and refugees in Aarhus. Bodil lived and worked in Lesotho from 1996 to 1999, where she worked with CLRAC - Community Legal Ressource Center - mainly training para-legals in democracy/civic education and human rights. A work period in her life that she look back upon with much joy. Bodil has visited Lesotho many times and still have a lot of very good Basotho friends.
email: mathiasen1@hotmail.com
Karsten Lund
Karsten is trained as a librarian.  Since his MS development worker placement with TRC Transformation Resource Centre in Lesotho from 2000 – 2003, he has worked as administrator of different project with NGOs in Asia and Africa. He returned to Lesotho for a short privat visit in 2018. He served on the DLN committee from 2005 to 2007 and joined again in August 2020.
email: karsten1963@gmail.com.
Anne Jacobsen
Anne is educated agronomist from the Agricultural University in Copenhagen and work as a teacher at a business school. She teaches leadership and Communication.
Anne was travelling in Lesotho in 1983 and are now a member of the RSDA group. Anne visited Lesotho in 2019 to learn more about the RSDA project.
Alternates
Anne Andersen
Anne was working for Lesotho Pre-School and Day Care Association (LPDCA) from 1998 to 2001.
email: aanne5528@gmail.com
Kurt Hansen